MARLYS K. MALLET
LIFELONG ABSTRACTIONIST
Marlys K. Mallet is the rare abstract artist with an education in traditional art.  She received her art education at the Burley School of Professional Art and the Cornish School of Allied Arts in Seattle, followed by tenure at John McCrady Art School in New Orleans.  In California, she continued her studies at Stanford University and at the Pacific Art League in Palo Alto where she later taught.
Mallet's work has become a diary of her life boldly expressing her personal visions of the places and people that have inspired her throughout her journey. They include glacier climbs in the Cascades and transferring those experiences onto canvas. In the South Marlys captured Louisiana's mysterious bayous, the nightlife on Bourbon Street and Mardi Gras Celebrations. All experiences deserved her attention as she painted the cityscapes and waterfronts of New Orleans, Boston, San Francisco and marketplaces and peoples from around the world. After scuba dives in the South Pacific she portrayed the elusive underwater world and later she captured the power of the major rapids of the Colorado River.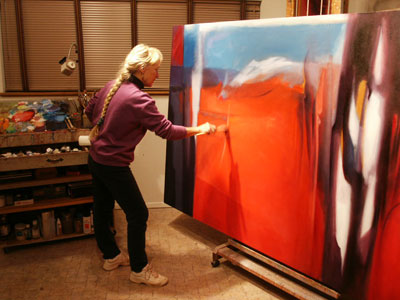 In California Mallet created a series of collaborative works with wood sculptor, Prof. Gil Paltridge of Berkeley which premiered at the Monterey Museum of Art. In 2002 Marlys spent a month in the Himalayan Mountains after which she created an Exhibit featured at the West Valley Museum in Arizona. In Sedona AZ she was awarded the first City sponsored public art commission to create four ten foot high murals at the Sedona Arts Center.
In 2011 Marlys and her husband created a 15' x 8' mural for Rainbow Acres in the Verde Valley. After their introduction to Rainbow's "Homes with Heart" they have made it their Mission to help developmentally handicapped adults by establishing an Art Program. They served as Volunteer Art teachers for eight more years while learning valuable life lessons from their students!
Marlys is represented by galleries across the country and her paintings are in numerous corporate collections, including Del Webb, Scottsdale Insurance Co., West Coast Life Ins., Hewlett-Packard and Oracle Corporation.
MICHAEL REDHAWK
JEWELRY DESIGNER & PAINTER OF ROMANTIC REALISM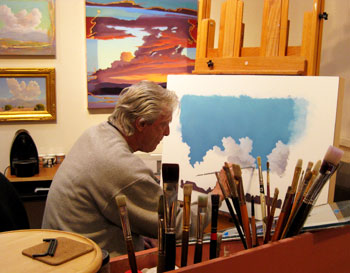 Welcoming others into the exciting world of gemstones, Michael has been creating jewelry and cutting stones for over forty years.  His expertise includes owning several of his own custom jewelry stores, winning numerous awards for his personal jewelry designs as well as judging jewelry competitions.  His work has been sold coast to coast in the finest boutiques and galleries from Del Mar to Martha's Vineyard and in the prestigious ski resorts of Colorado, Utah and Wyoming.  Goldie Hawn and Chuck Norris are among his notable clients.
In the 80's Michael expanded his artistic energies encompassing the art form of oil painting. Michael sought out professional artists for tutoring, including William Scott Jennings, winner of the National Arts for the Parks competition. Michael was featured as Artist-In-Residence at the Cornerstone Gallery in Sedona, Arizona, and his work is represented by galleries across the US, including Nan Miller Gallery in NY and Goldenstein Gallery and Modern Masters in AZ.
As an avid sailor and river rafter Michael spent considerable time in his canoe or kayak or boat exploring rivers and Lake Powell.  His artwork features the beauty of waterways as well as the back country of the Southwest where he often paints plein-air. Michael has also captured the mountains of Colorado and the beaches of Northern California, honoring their special qualities. The sense of purity and awesome beauty of nature is of paramount consideration throughout all of Redhawk's paintings conveying a pristine landscape before the intrusion of man.  Romantic Realism is the term used to describe his painting style.